All About Mega Menu Navigation in SharePoint Sites
Have a nice modern intranet for your organization? Let's make it more efficient and work exceptionally. With the power of SharePoint and Office 365, modern intranets are very powerful and intelligent. Today we will enlighten you about the latest Mega Menu Navigation and new 'Change the look' option. These new innovative changes help your business in two ways: to improve employee engagement and to modify the way your sites look in order to make them work better according to your needs. It is all about completing tasks and making it easier to let users navigate. Common page elements and effective navigation is what necessary to achieve these goals.  
The mega menu along with new header layouts make sites more effective for groups with diverse requirements regarding site navigation and pages. Megamenus allow site owners to organize and showcase navigation items of sites in a better way. These new changes are expected to roll out starting from February 2019.
Organize Site Navigation
The main advantage offered by SharePoint Megamenus is in letting the users discover what they need quickly. This helps them to solve problems, access tools, take decisions and stay updated more easily, and at great speed. Even with good search options available, users still prefer to use the navigation experience to keep things simple.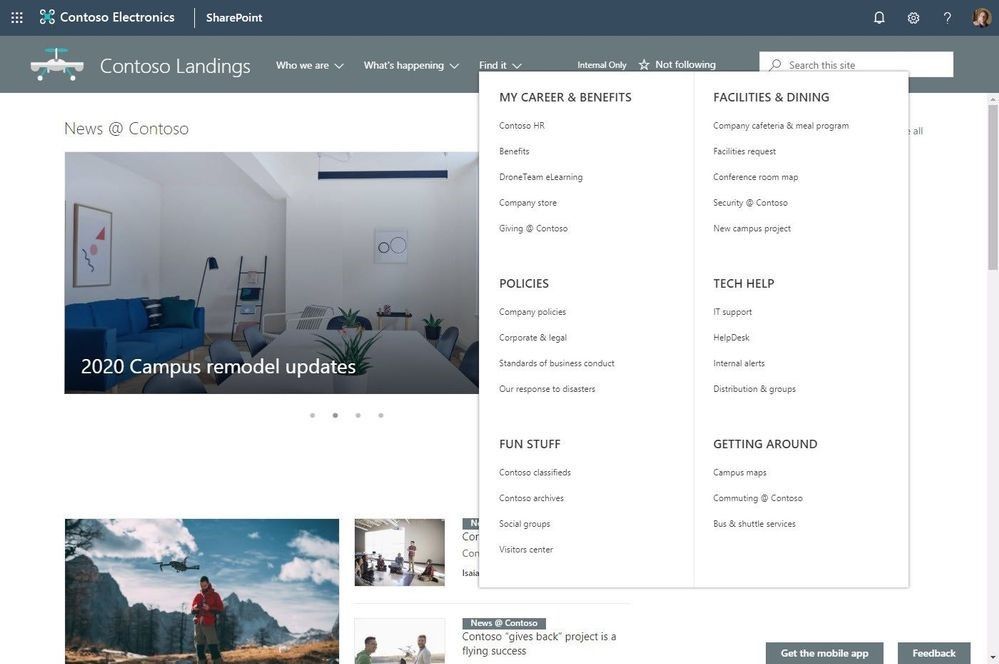 Change Navigation style
Megamenu options allow you to change the navigation style easily. It is possible to switch between the Megamenu and cascading look and feel from the Change the Look edit pane. By changing the navigation style, you can increase the overall value of the site navigation. In other words, this lets you arrange sites and content more effectively, and showcase it before users for easy exploring.
Navigation planning Perspective
No doubt that the best way to do navigation planning is from the perspective of the users who access the information. They are the ones who will be visiting the sites and going through the navigation experience. The beautiful and nicely organized megamenu will be a wonderful way to greet them. You can also read more about the 'Change the look' edit pane from here.